2019.04.20 Saturday
13:23
Spray'um !!
Nothing shows your level of surfing technique as a big spray. ( and nothing is as "In your face - Take this !" as a big spray hitting you )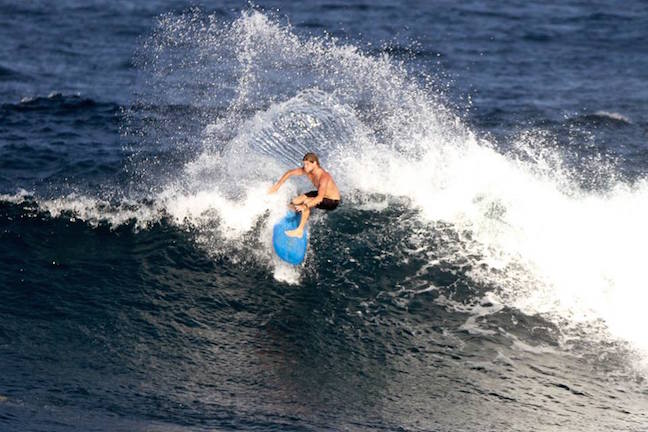 Here's a nice spray off the top. But things to note:
Board is pointed away from the curl.
Eyes are down the line.
Weight is balanced over the deck.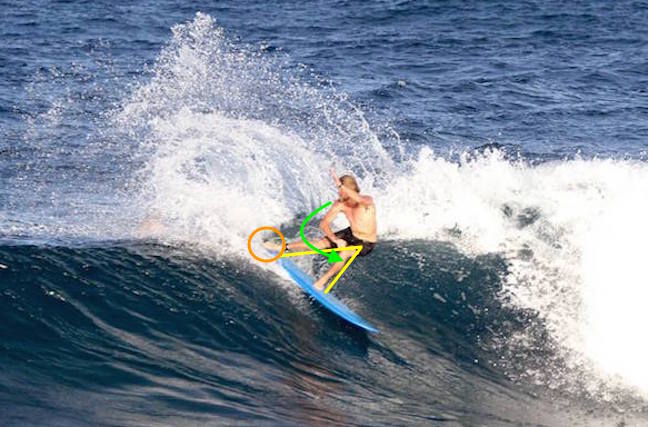 Same surfer, different wave, but more of a SNAP carve compared to the above photo. Bit more agressive.
Board is pointed back to the curl
Eyes are looking / concentrated soley focused into the spray.
Weight is forward to let the tail slide around to the front. ( notice the forward triangle created by the straightened out back leg and bent front leg )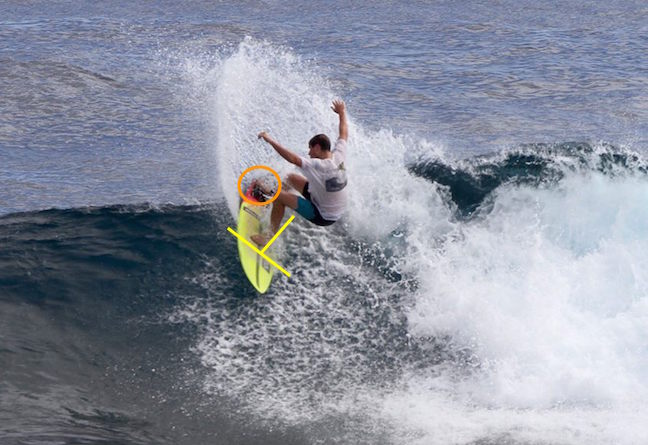 Similar off the top spray, but notice the board is more angled to the surface of the water.
Surfer gets the board "on rail", almost bringing the board to a stop in a tight arc.
He is not looking down the line, but soley on ripping the top off the wave.
( notice UNDER the board, the remnents of spray from the bottom turn. More Down equals more Up later. )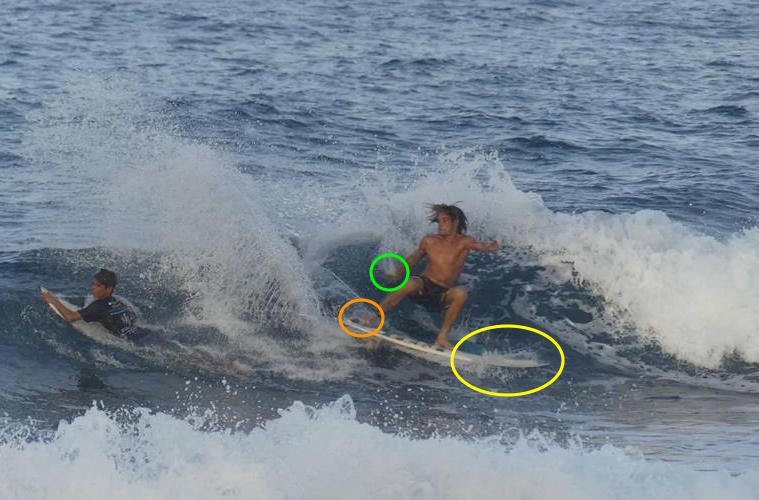 Someone is getting buckets thrown over them.
Notice the small pearling / piercing of the water by the nose. That actually helps the tail to come around.
Back hand grabs the wave just like a Emergency Hand Brake.
Surfer is focused on covering the rider on the shoulder. If the surfer in black wasn't there, maybe there wouldn't be as much focus to carve/snap that hard.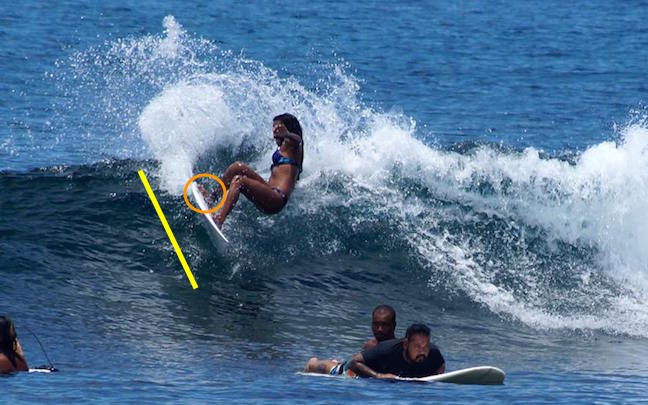 Hard Angles leads to Hard Spray. See how much she gets the board on rail ?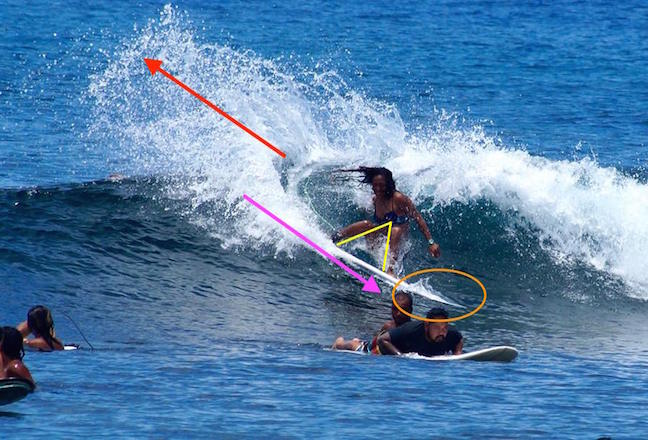 Spray goes one way, board goes the other way.
( again notice the piercing of the water by the nose just for a moment )
She's not worried about that, she totally composed and in control of the situation.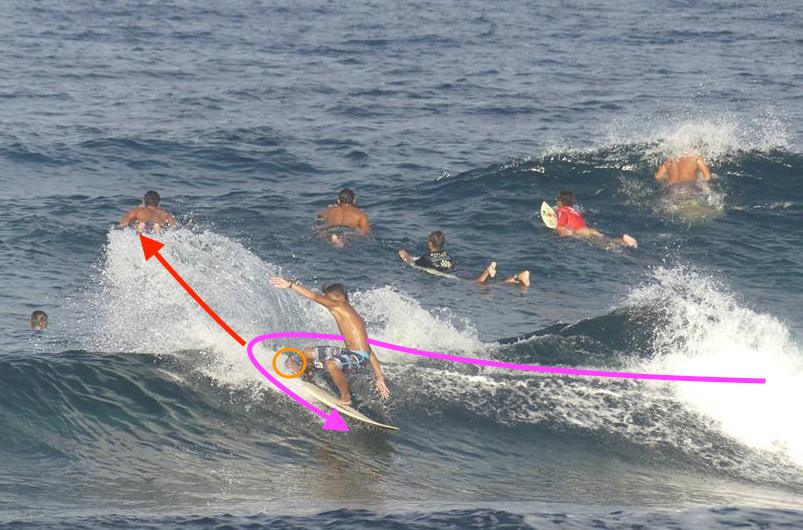 Sudden Change of direction. Energy has to go somewhere.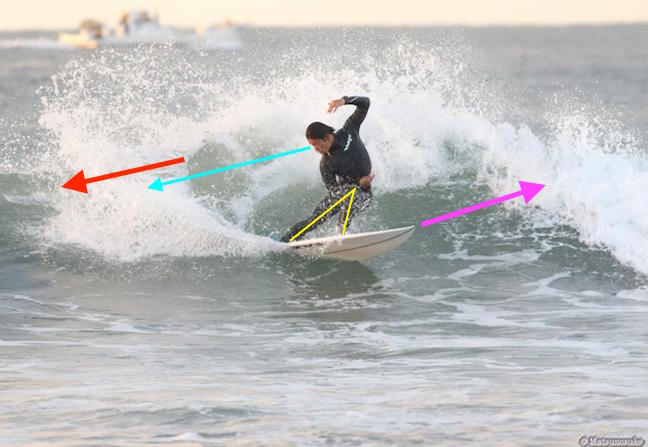 Change of direction.
Eyes focused thru the spray.
Forward triangle allows the tail to come around more.
Go back and look at all the photos. Look where the surfer's back foot is placed ( highlighted in orange ). The back foot is ALL the way back on the tail pad.
Nothing shows your level of surfing as doing a big SPRAY. It shows you have:
SPEED - How to make speed and where the sweetspot is on the wave
CONTROL - Lean angles, tail placement and body line.
POWER - all that UMMMMPHH !!
Please check out Matsunosuke Kugenuma and Philippine surf report on FB to see more.